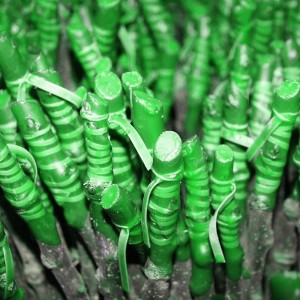 GREEN WAXES
Highly selected GREEN WAXES are used to ensure optimal storage conditions for the seedlings. A specially selected mixture of ingredients preserves, protects against fungi, bacteria and stimulates the growth of seedlings.
GREEN WAXES provided by N-Wax is a mixture of deeply refined micro waxes, polymers, and natural products. It is characterized by high elasticity and adhesion. The base components used are approved for contact with food products.
Parameter

Test method

Typically

Minimum

Maximum

Temperature of solidification (°C)
PN-ISO 2207
65
65
68
Drop point temperature (°C)
PN-ISO 6244
70
68
75
Kinematic viscosity in 100°C (mm

2

/s)
PN-EN ISO 3104
10
10
14
Penetration in 25°C (1/mm)
PN-C-04161
18
16
22
Oil content (% m/m)

1

*
PN-C-04160
1
-
3
Flexibility 

2

*
Own method
Withsta.
-
-
Adhesion 

2

*
Own method
Withsta.
-
-
Color
-
Green
-
-
1* parameter determined before adding additives
2* own method
Green wax is used to protect vine plants, trees and shrubs against:
drying out during storage and transport,

mechanical damage during storage and transport,

access of moisture, bacteria and fungi,

high temperature and harmful UV radiation.