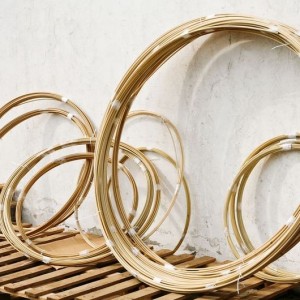 REINFORCING BARS
Non-metal concrete reinforcing bars made of composite materials.
The rods have spiral ribs on the whole surface. Composite bars are designed for reinforcement in concrete structures as an alternative to traditional steel reinforcement.
Non-metallic reinforcement bars are made of glass or basalt fiber bonded with a resin-based polymer. 
Available in diameters from 4 to 20mm.
REINFORCEMENT SELECTION TABLE BASED ON DIAMETER

   STEEL REBARS

   COMPOSITE REBARS (GFRP)

 DIAMETER (mm)

 MASS (kg/lm)

 LENGHT in 1T (lm)

 DIAMETER (mm)

 MASS (kg/lm)

 LENGHT in 1T (lm)

 6

 0,22
 4545

4 

0,02 
50000 

 8

0,40 
2530 

6

 
0,06 
16667 

10

 
0,62 
1613 

7

 
0,08 
12500 

12

 
0,89 
1126 

8

 
0,10 
10000 

14 

1,21 
826 

10

 
0,16 
6250 

16

 
1,58 
633 

12

 
0,22 
4545

18

 
2,00 
500 

14

 
0,31 
3225 

20

2,47
405

16

0,40
2500